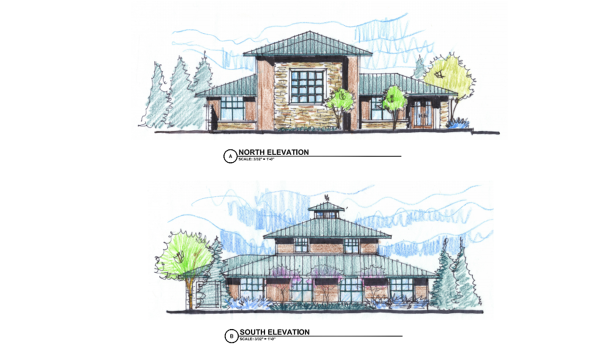 Living in a vastu-designed home is a transformative experience. The harmonious design principles foster a deep sense of peace and wellbeing. Every room resonates with positive energy, enhancing daily life. It's not just a house, it's a sanctuary that nurtures the mind, body, and spirit in profound ways.

Within a month everything changed for the better at the Studio. Projects that were on hold for long periods of time were released and now flowing into  the studio. Everyone in the Studio has noticed an increase in their energy and effectiveness throughout the day.
Meltdown Glass Art & Design Full Testimonial
Recently a friend of mine introduced me to   Deepak Bakshi, founder of Vastu Green Building Studio    Here at Meltdown Glass Art & Design we work and interact with many of the  leading architects in the US daily to create magnificent panels of art glass for  their clientele.
In our first meeting, Deepak introduced me to the concepts of ancient Vastu  architecture and the immediate effects the built environment has on all the  occupants.  
As the owner of a new 18,000 sf building in Tempe, AZ for the Meltdown Glass  Studio, I was concerned for the success of my business and the wellbeing of  all staff members. 
Deepak looked at the plans and the location of the building, including the  orientation of all doors and entrances to gage the proper placement of Pyra  Vastu to rectify any misalignments with the proper orientation.  
I wanted to use his concepts of Pyra Vastu to optimize the health, creativity  and success of everyone at Meltdown Glass.  According to Deepak Bakshi - Pyra Vastu is the new, scientific method of energy balance  to achieve optimum health, prosperity and success.   These concepts include time-tested techniques to help rectify existing land, home, office  and more.   
Precise combination of techniques invites cosmic energy, revitalizes your body and gives  peak performance.   
It's a tool combines pyramid space and Vastu Yantra.    
The studio had enjoyed unparalleled success from 2005 to 2018 but had started to falter.  After studying many aspects of the location and the building itself in Tempe, AZ, Deepak  came up with a plan to effectively change the dynamic of the studio towards greater  creativity and success.  
I purchased several Pyramids including a YANTRON PROMAX 5G-GOLD for the  Brahmasthan or the center of the building.    
Needless to say all of the Meltdown Glass staff were a little befuddled when I opened  the boxes to reveal 24 pyramids for the four corners and the Brahmasthan of the  studio.  
All pyramids were quickly installed throughout the studio for maximum coherence and  creativity.    
Within a month everything changed for the better at the Studio.  Projects that were on hold for long periods of time were released and now flowing into  the studio.  
The Meltdown Glass Studio even in these hard times has had a great 2020 year with  financial success on many levels. 
Everyone in the Studio has noticed an increase in their energy and effectiveness throughout the day. So I am very happy to have met Deepak Bakshi and open minded enough to consider his unique approach to creating a healthy successful environment for the Meltdown Design Studio
Burks Family
Our intent when we first talked to Deepak was that we wanted to live in a home that was spiritually uplifting. There are more Vastu homes in this county than anywhere else in the U.S. There is an odd feeling
among some Vastu  architects that the home has to be a box that all such homes look the same.
Deepak has shown us something different. Vastu dimensions are critical to the feeling and evolution of those living in. vastu home. He has done that and designed a home that no one in this community thought was possible.
As a family we feel very content in our home. The meditation room is very significant. Being retired we spend several hours there a day. Our 10 year old son voluntarily comes in to meditate morning and evening.
People who come to our home feel so centered and transcendent that they do not want to leave.
We are fortunate to live in a community of spiritually oriented folks. Many of our friends who have dedicated themselves to a life of seeking enlightenment come to our home just to be there because the Vastu is so powerful.
Deepak has given us a home to flourish in and way to help us
reach the best degree of personal growth and to contribute as much as possible to the world at large.
Sekhar Vemparala
It is my honor to write about Mr. Deepak Bakshi's subject matter expertise in the area of Vedic Vastu Science. I have known Mr. Bakshi for over 20 years when I first came across an article Titled Zero Defect Home and how to live in Harmony with science of the proper layout to improve health, happiness and prosperity. 
Over the years, I have followed Mr. Bakshi's methods on Vastu Science and Green Building using the elements found within your own home's earth and using the same to connect to the Cosmos. Most recently, Mr. Bakshi's application of Pyra Technology based on the ancient Pyramids is most effective in the remedy of any pre existing constraints in home building. 
 Ideally, one can select a plot that is perfect and build a home that is also perfect as prescribed by Vastu guidelines. However if you purchase a home like I did, and there are some remedies that are prescribed, the Pyra Technology works like a charm. In our case, Mr. Bakshi visited our home and offered remedies both inside the home and outside the house. First he charted the architectural plans and created a Vastu Fence and placed the pyramids in the ground creating a vortex of energy fields that radiate positive energy in concentric circles around the home. Inside the home, he determined the exact center point of the home and placed appropriate pyramids (yantras) that erased any negative aspects and invited positive energy into our home. 
 Needless to state, my overall health has improved and my work and career are on an upswing and I feel highly optimistic about the future based on the subtle changes incorporated by Mr. Bakshi. The results are not subtle. They are exponential. Thanks to Mr. Deepak Bakshi for his help and knowledge in helping creating positive results.